Bitcoin (BTC-USD) is a cryptocurrency that has been in the recent news and headlines all over the world in recent months. The once primitive and unknown coin is now mentioned daily in many financial outlets.
With the price of Bitcoin sharply correcting after soaring for most of 2017, Bitcoin is currently selling at trough valuations making it an ideal buy at these levels.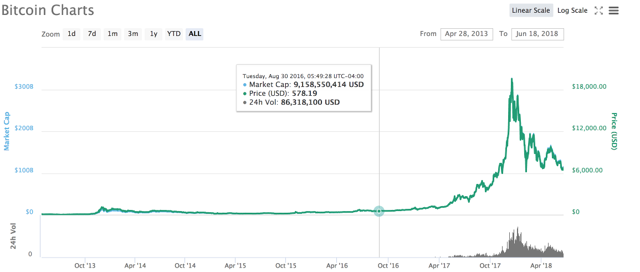 >
Source: Coinmarketcap.com
A Return To A Bitcoin Bull Market May Be Coming Soon
The price of bitcoin may soon recover back towards its 2017 peak based on several key catalysts that may help propel the cryptocurrency markets back up. While prices have definitely come down from its all-time highs, Bitcoin is now a much safer bet than back in December when Bitcoin was selling at nosebleed prices.
It is clear that while Bitcoin is backed by a promising blockchain technology, the price of Bitcoin itself may have gotten ahead of itself in the latter part of 2017. With limited adoption and few actual use cases, Bitcoin arguably had risen far too fast too soon.
In order for Bitcoin to be considered as a valid currency or as a means of store of value, we will have to grow in a steady organic pace. Sudden growth spurts and bubble cycles will only validate the point of view that Bitcoin is not suitable as a valid currency or even as a good store of value.
While sudden growth spurts can bring outsized gains to investors looking to beat traditional markets, it can also work inversely as seen in recent months with Bitcoin losing a significant amount of value from its all-time highs. Luckily for investors, Bitcoin has several important key catalysts that could end the current bear market.
Catalyst #1: The Current Regulatory Environment May Soon Ease For Bitcoin
Much of Bitcoin's current fear is due to investors fearing additional regulation from the government. Investors fear that regulation could potentially destroy the decentralized-based Bitcoin system. However, this may soon be changing. In the U.S., the top SEC director declared that Bitcoin and Ethereum (ETH-USD) are not considered securities according to Federal Law. This means that both cryptocurrencies can avoid unnecessary regulation and scrutiny by the government. This alone should tell investors not to fear the current regulatory landscape, and William Hinman's comments should have eased a lot of investors' minds. Although the price of Bitcoin failed to rally on this news, it is a testament to how the government is likely to react to these top 2 cryptocurrencies. This is a clear buy signal since it proves that the regulatory fear behind Bitcoin is unsubstantiated.
Catalyst #2: More Exchanges Are Receiving Approval To List Bitcoin And Other Altcoins
An increasing amount of exchanges are beginning to offer cryptocurrency trading. In fact, the popular money exchange app Square recently received an official New York State license allowing customers to buy and sell Bitcoin. This is a testament to the increasing popularity of Bitcoin despite the dropping prices. Another cryptocurrency platform named Abra is an American Express (NYSE:AXP) backed cryptocurrency that recently began to expand their range of services from just being able to buy and sell Bitcoin to numerous other cryptocurrencies. The Abra app along with Square can potentially bring additional awareness and availability of cryptos to ordinary retail investors. One of the common complaints of past investors is the difficulty for ordinary investors to purchase cryptocurrencies. With the availability and creation of these types of apps, many more investors will now have access to buying Bitcoin which will eventually drive prices back up.
Catalyst #3: High-Profile Fund Managers And Institutions Are Beginning To Back Bitcoin And Other Cryptocurrencies
Bitcoin is no longer viewed primarily as a means of exchange by criminals and other money launderers. With the recent interest of high-profile fund managers coming into the cryptocurrency space, it is unlikely that cryptocurrencies will go away any time soon. For example, former Wall Street hedge fund manager Michael Novogratz has invested a significant amount into Bitcoin and other cryptocurrency startups. One such investment is his $15M investment in AlphaPoint, a New York-based company that helps institutions launch cryptocurrency platforms. Similarly, Novogratz also contributed to funding another relatively new cryptocurrency called EOS through a $325M ecosystem fund with his partnership with Block.one.
There are countless other examples of other high-profile fund managers doing the same, solidifying their spot in the cryptocurrency space. This kind of institutional money is what the Bitcoin ecosystem needs in order to grow and attract more money into the space. If this trend continues, Bitcoin is likely to increase in value over time as more institutional money comes into the space.
Blockchain Technology Is Here To Stay For The Future
Blockchain technology does have inherent value as a new and promising technology that is likely to stay. Bitcoin and other cryptocurrencies know no borders, meaning money can easily be transferred from one wallet to the next without an intermediary such as a banking institution. Depending on which cryptocurrency is used, the fees to send the currency are generally much lower than the fees to send traditional bank wires from border to border.
The whole idea of a decentralized blockchain currency is a novel idea in my opinion and is likely to remain alive for years to come. Barring the volatile price movements of Bitcoin and other cryptocurrencies, blockchain technology in itself is a revolutionary concept.
Buy Bitcoin As A Speculative Investment
More conservative investors prefer to invest in stable assets that grow year after year based on increased profitability and revenues from traditional means of business. They tend to shy away from volatile assets such as Bitcoin. More adoption is needed in this space in order to legitimize the coin as an actual currency.
I would recommend that investors with a higher risk appetite use a small portion of their portfolio to buy Bitcoin as a speculative long-term play. Long term, I do believe that prices will recover from the current trough - but it may be months or even years before prices return to their all-time highs.
With prices back to much lower levels, the risk/reward ratio is now favoring long-term holders. If more businesses continue to adopt Bitcoin as an alternative form of payment over the next several years, Bitcoin may be unlikely to go away anytime soon. In addition, as public recognition of blockchain technology as a whole increases - the prices of the overall cryptocurrency market will likely follow suit.
Compared to investing at $20,000 per Bitcoin back in December 2017, investors are now looking at paying just over $6,000 per Bitcoin. That isn't to say that the coin can't continue to drop in this bear market. Ideally, this time prices grow organically based on actual parameters such as higher adoption, more recognition in the cryptocurrency space, and improvements in blockchain technology over time. At this point in time, investors should take advantage of these lower prices in Bitcoin to build a position for the long term.
Disclosure: I/we have no positions in any stocks mentioned, and no plans to initiate any positions within the next 72 hours.
I wrote this article myself, and it expresses my own opinions. I am not receiving compensation for it (other than from Seeking Alpha). I have no business relationship with any company whose stock is mentioned in this article.
Source : https://seekingalpha.com/article/4182646-buy-bitcoin-current-levels-long-term