Paycom (PAYC) is another cloud-based SaaS business software platform, one of these Swiss army knife business models that generate stickiness and multiple revenue sources and tend to command enormous value on Wall Street.
The company has certainly been growing healthily and, contrary to many of these cloud based platforms, it's already quite profitable: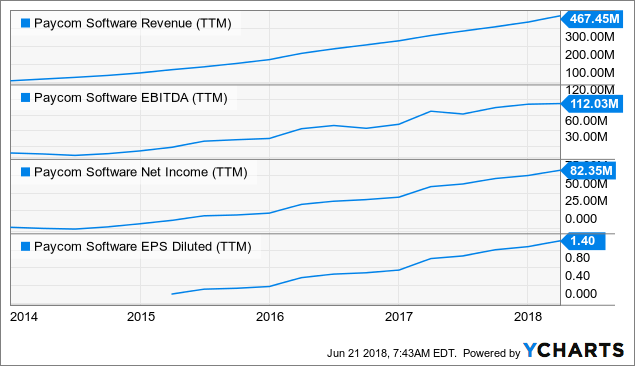 You'd expect the shares of a company with the above (GAAP) performance to have been doing really well, and indeed: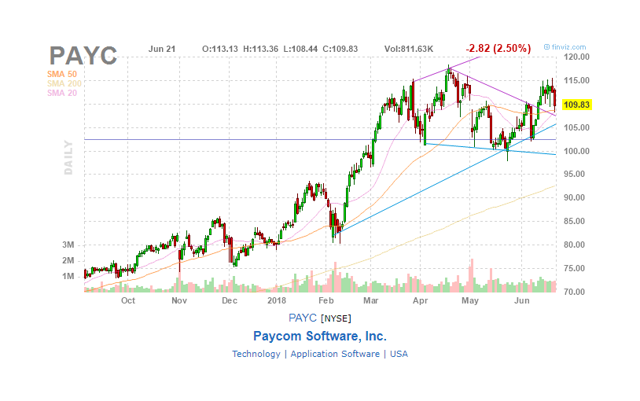 >
Business model
We will analyze this with the help of our SaaS business platform model, which you can find here. Not all of these steps are relevant to all players, so we'll only describe the most salient ones.
Killer app
The company started as a payroll provider but it has subsequently moved into the broader field of HCM (human capital management). Almost all (98.7%) of its revenue are on a (recurring) SaaS basis and come from the cloud.
Expanding revenues is mainly the result of adding new clients, but existing clients also add additional revenue through:
Increased usage
Pricing
Buying additional functionality
See below for details on the latter two, but on the former here is management (Q1CC):
Having an easy-to-use HCM system can lead to higher employee engagement, increase productivity, drive job satisfaction and improve employee retention.
The 10-K (2017 year-end filing) argues this about pricing (our emphasis):
Our solution is highly scalable. We serve a diversified client base ranging in size from one employee to many thousands of employees, although our target client size range is 50 to 2,000 employees. We calculate the number of clients' employees based on parent company grouping. Our clients are able to use the same solution while their businesses grow by deploying applications as-needed in real-time.

Pricing is determined by employee headcount and the number of applications utilized, enabling our clients to align HCM spending with their evolving HCM needs as compared to traditional HCM products that require clients to migrate to new software as they grow but retain fixed costs even if the client shrinks in size.
So for instance, the company has built a self-service mobile app with which the employees of their customers can handle all kinds of HCM functions themselves. Although there was already desktop functionality doing the same, it's possible this expands the usage and hence pricing.
In the meantime, the company is increasing its market share. Here are the differences in annual growth rates versus its much bigger competitor ADP (ADP), which raked in $13B in revenues over the past 12 months versus $500M for Paycom.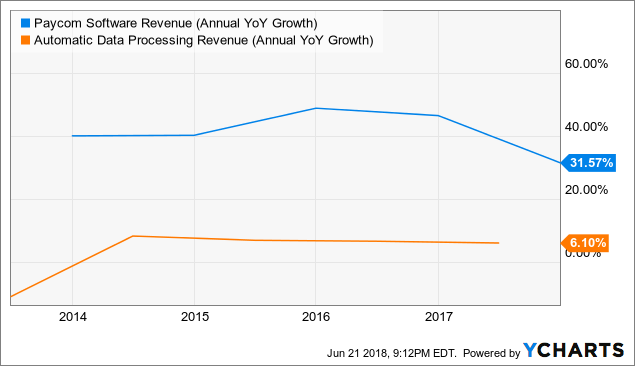 Partners
While the company does do referral selling, most of the sales process is occurring in-house. There is a simple reason for that (Q1CC):
it's a very high touch sale, you have to have collaborative meetings, you have to do in-depth analysis; and so for us we are always going to be the lead on that.
Management is very focused on client ROI (see below) so the sales process is very hands-on. They're opening regional sales offices on a staggered basis, which also serves as a way to develop new marketing talent.
But when the market matures this might very well start to change and it's good to know that the company has several levers (up-sell, price hikes) still at its disposal.
New functionality and up-sell
Here is how management put it (Q1CC):
HCM needs to span multiple areas, including not just payroll but also recruiting, talent management, benefit administration and many others.
And indeed, the company has added lots of new functionality, new modules and upgrades of existing modules over time, stuff like a mobile app for their clients employees, Paycom University, Talent Acquisition, applications to deal with managing temps in the GIG economy, taxes by geolocation, mileage tracker and smart mileage costing, etc. Given that management argues that (Q1):
Now to your point, we are developing an incredible amount of additional functionality that we do update for clients every month
However, management argues that they're not aggressively pursuing up-sell opportunities and most of the company's revenue growth comes from adding new customers.
In a way, this makes sense as the SaaS platform model still has a large runway in front of it. Management also argues that they are focusing more on appropriate use by customers as apparently it's easier to sell stuff to customers than it is to getting them to actually use it!
So they educate clients with appropriate usage and this drives the clients' ROI and that increases the chances that they will buy additional functionality, that is basically the strategy, which they are using.
This makes sense to us. The company is heavily invested in the success of their customers, and that is a main ingredient to grow and be successful in most kind of markets and helps them retaining customers.
They have the same cautious and customer-centered approach with pricing. Here is management during the Q1CC:
I'm unaware of a company that does not have routine price increases with the exception of us, it is standard for industry. Again, we go after -- when we go out and work with the client, we want to work collaboratively with them, we want to produce spare pricing that also generates the ROI, I believe we're doing that. Now to your point, we are developing an incredible amount of additional functionality that we do update for clients every month and so as far as is there an opportunity as time goes on, there is an opportunity but I will say that I believe that it's based off of the ROI we're delivering to our client. A price increase without an ROI, I don't think it's good business
The company has a customer retention rate of 91%, that's high, but not exceptionally so and it explains the importance they attach to focusing on customer ROI (Q1CC):
some of the times we lose a client, it's not controllable but often times it is and it typically revolves around usage. And it's very important that clients use our products correctly, because they are somewhat different than what's out there as far as our strategy goes.
Margins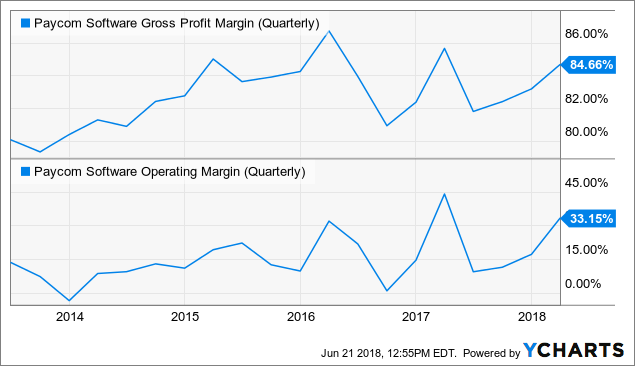 Margins are very healthy and there has been a good recovery in operating margin in Q1. The adjusted EBITDA margin of 52% in Q1 is really quite substantial as well.
Margins could climb if the sales offices that are only just operational (and the ones still in the planning stage) reach their point of maturity (after 24 months) and beyond. At present, they have just six of those 'mature' offices.
Cash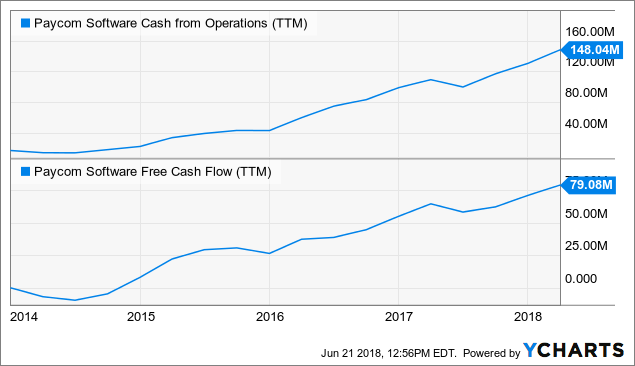 The company really creates a bit of a cash bonanza, with healthy levels of free cash flow, reaching 25% of revenues in Q1. This could even increase in the second half as the CapEx related to their new building (which is bigger than the existing buildings combined) tapers, although management didn't comment on this when asked during the CC.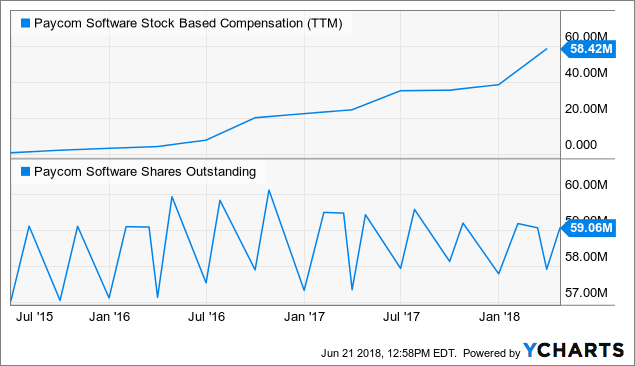 Stock-based compensation is responsible for by far the biggest part of the free cash flow, so the picture is not quite as bright as one might conclude at first sight.
Nevertheless, there doesn't seem to be much of an upward trend in the share count, although we have to say that graph looks a little off to us. Here's an alternative from Morningstar: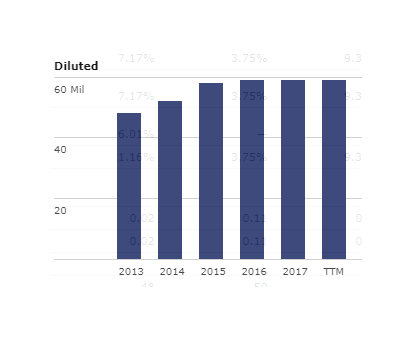 Which is the diluted share count and the upward trend seems to have stalled the last three years. Indeed, the diluted share count increased from 58.5M in Q1 2017 to 58.8M in Q1 2018.
The company has $33.9M in long-term debt (plus another $1.3M in current debt, maturing this year) and $68.1M in cash and cash equivalents.
The company does have a $100M share buyback program and they spend $169M in Q1 on that.
Guidance
The company is increasing both Q2 and FY2018 guidance:
Q2 revenue: $123M-$125M (+26%)
Q2 adjusted EBITDA: $43M-$45M (35%)
FY2018 revenue: $545-$547M (+26%)
FY2018 EBITDA: $220M-$222M (40%)
Valuation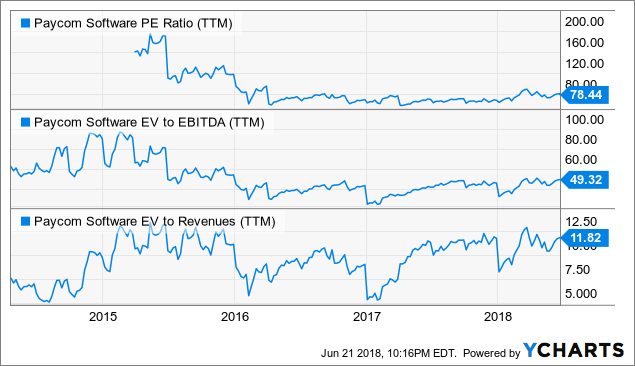 As is to be expected, valuation is really very substantial even if these figures are backward-looking and GAAP-based.
Analysts expect an EPS of $2.50 this year rising to $3.07 the next, which would value the shares at 35x next year's earnings.
We have looked at numerous SaaS business platform stocks and investors seem to think that it is near impossible to lose with them, bidding valuations ever higher.
Conclusion
That conclusion might very well be right though. Many of these stocks benefit from several very favorable trends and features. Some of these, in no particular order are the ongoing move to the cloud and SaaS, the platform model with its economies of scale, scope and in some cases network effects.
The opportunities to create additional functionality and up-sell, increasing the value of the platform and its stickiness. The basic assumption under many of these companies is that they will keep on growing at 25%+ a year in the foreseeable future.
Then there are the opportunities for operational leverage and creating large amounts of free cash flow with which to reduce the share count.
Paycom is no exception, even if we didn't see all that much up-selling, nor could we find a dollar net expansion rate, which would quantify that. In a way, this is curious because this company seems to add more functionality more quickly than most of the other SaaS business platforms we have looked at.
But management has explained that as it is still very much focused on customer needs and their ROI, which seems not only laudable but smart business.
The question is if you want to pay 11x sales for the stock or 35x next year's earnings. We think you'll be okay as long as the economy keeps on growing and there is no major market downturn, but that's stuff that nobody can guarantee.
We wonder at times whether the market will not re-evaluate these valuation multiples at some stage, and how much (if any) they can still expand. Likely if they exceed expectations and the company still has a few levers left, so we're not pessimistic here.
Source : https://seekingalpha.com/article/4183301-paycom-still-gas-tank